realme continues to expand its TechLife ecosystem by bringing its first partner brand DIZO to the Philippines. With its mission of encouraging its consumers to "Be Different" the brand aims to offer various tech products that complement every consumer's individuality to become an extension of their unique personalities.
We're fortunate enough to get our hands on the new DIZO Buds Z and the DIZO Wireless. Here's our full review on yet again, another amazing product.
Related Article: https://iconicmnl.com/review-dizo-wireless/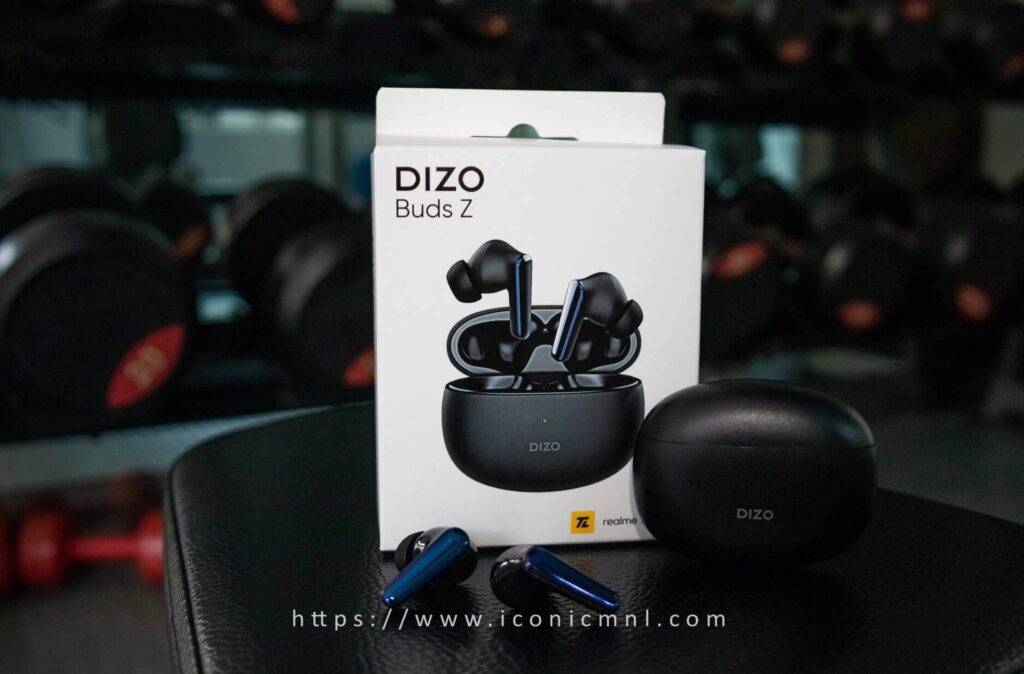 The DIZO Buds Z is a midrange wireless earbuds that only weighs around 3.7 grams each. In addition to that it also sports an ergonomic design making it very comfortable to wear. It also has a special material that reflects light to create a myriad of bedazzling colors perfect for the stylish users. The Buds Z also features 88ms super low latency, Bluetooth 5.0 and has a 16 hours long-lasting battery life.
Unboxing/Accessories
Straight out of the box, you'll find the DIZO Buds Z charging case with the earbuds inside, a (short) Type-C charging cable, user manual, and two more eartips in different sizes (comes in small, medium, and large).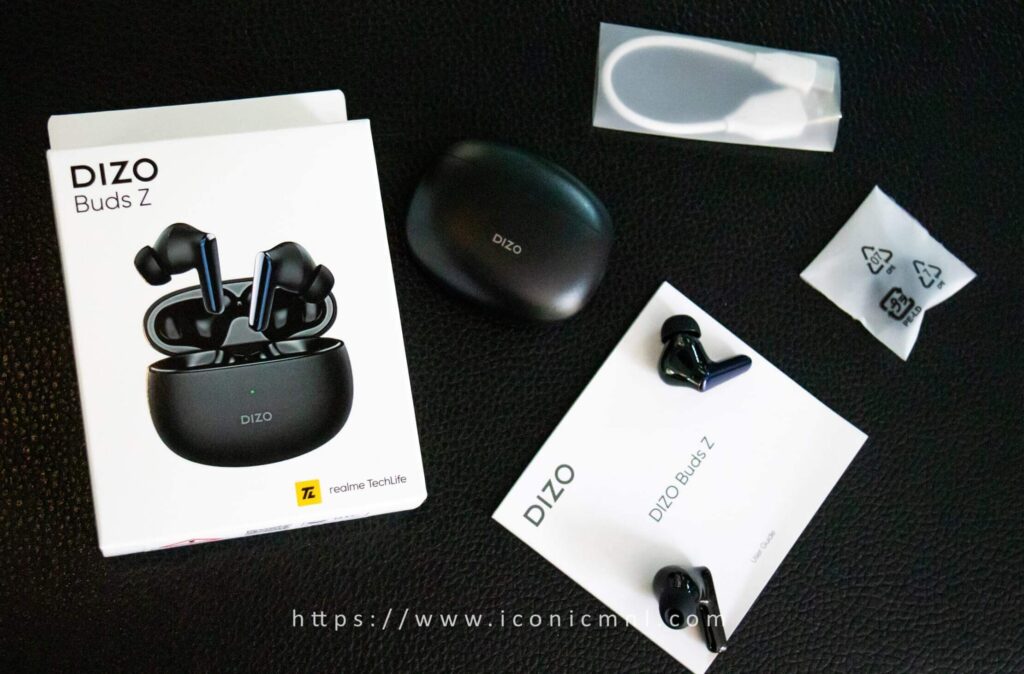 Design And Build Quality
We got the Onyx color variant and we noticed a hint of reflective blue finish that goes well with the rest of the earbuds. The shape design is very common tho with a short stem, but the color is dazzling enough to compliment any outfit you're wearing. The earbuds feel very comfortable to use even for long hours of time because of its lightweight design. It is also ergonomically designed to fit the specific shape of your ear canal, meaning it stays in securely and doesn't easily fall off. It also has IPX4 water splash resistance which means that it is safe to use during workouts.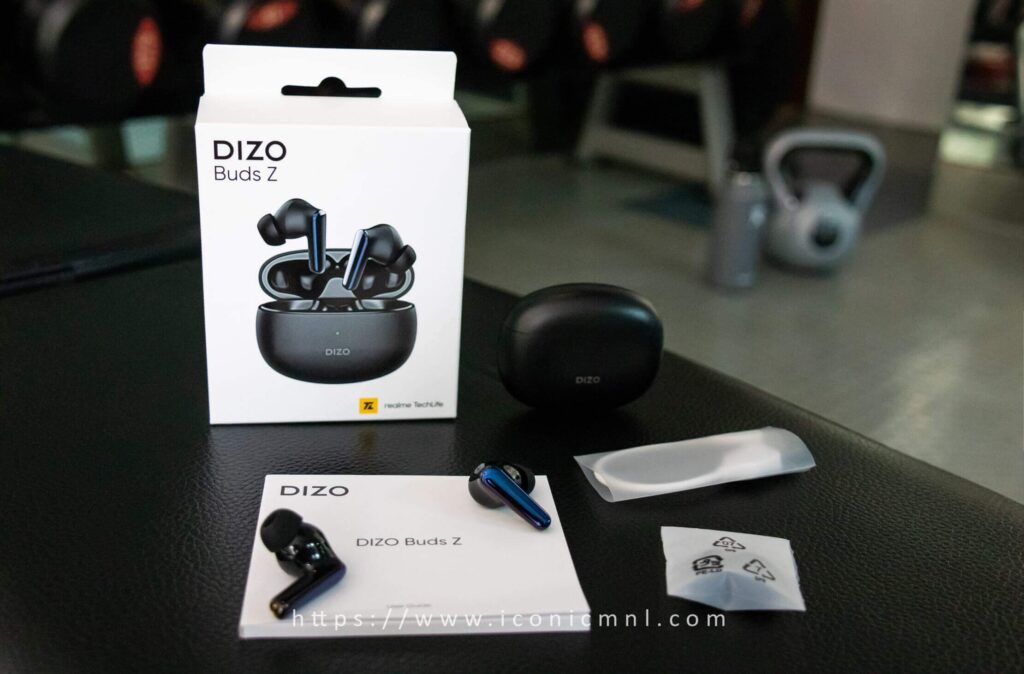 Pairing & Connectivity
The DIZO Buds Z also allows users to customize the controls with the help of the realme Link app that serves as the central hub for Realme's AIoT products. With the help of the realme Link app you can easily connect your device like the DIZO Buds Z and the DIZO Wireless. With this app users can easily switch between Bass Boost+, Balanced, and Bright. Aside from that users can also customize which modes they want to use with the button settings. The app also enables users to turn on/off the Game mode, use Volume Enhancer, and Auto answer that answers the call when you put on the earbuds.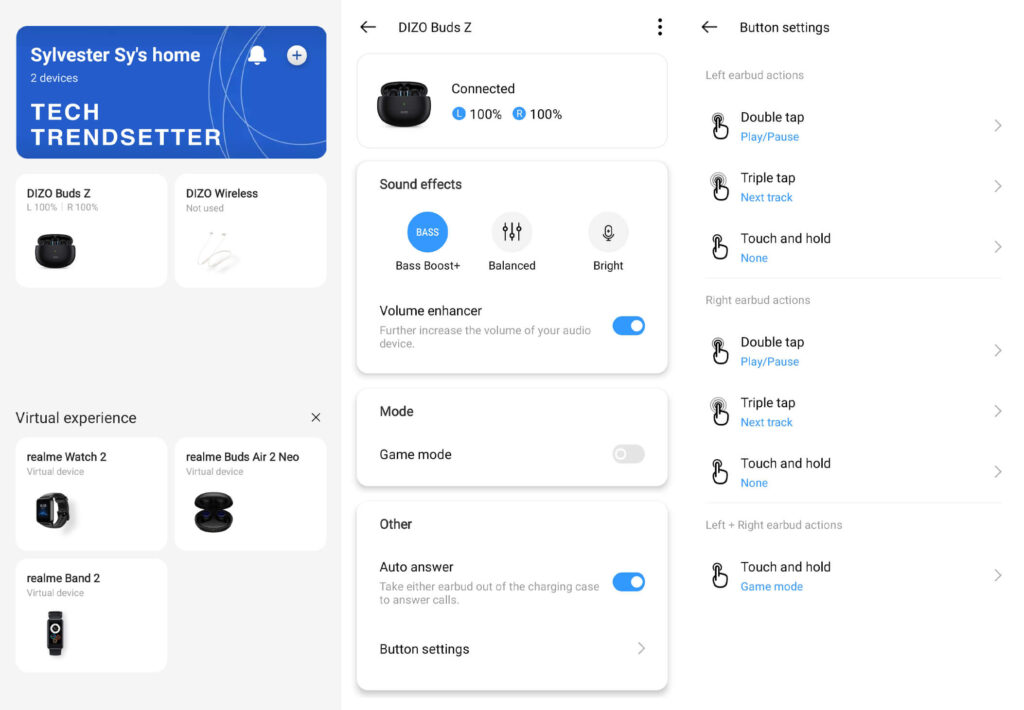 Battery
In terms of battery life, each earbud comes with a 43mAh battery while the case comes with 380mAh battery that DIZO claims to have a battery life of 16.5 hours of continuous playback depending on the user's usage. Charging the device is also quick at around 1 hour from 0 to 100 percent on the earpiece. Unfortunately, wireless charging is not an option here, but that's to be expected given the price.
We tried using the DIZO Buds Z playing Call Of Duty at 100% battery level with the game mode activated for about 3 to 4 hours. After that we checked the battery level again and it is still at around 20% battery level, still more than enough juice to enjoy watching movies, listening to music or playing more games all throughout the day. Take note that we never returned the Buds Z back to the charging case while using it to test the battery life of the buds itself and I was honestly very impressed given the price point.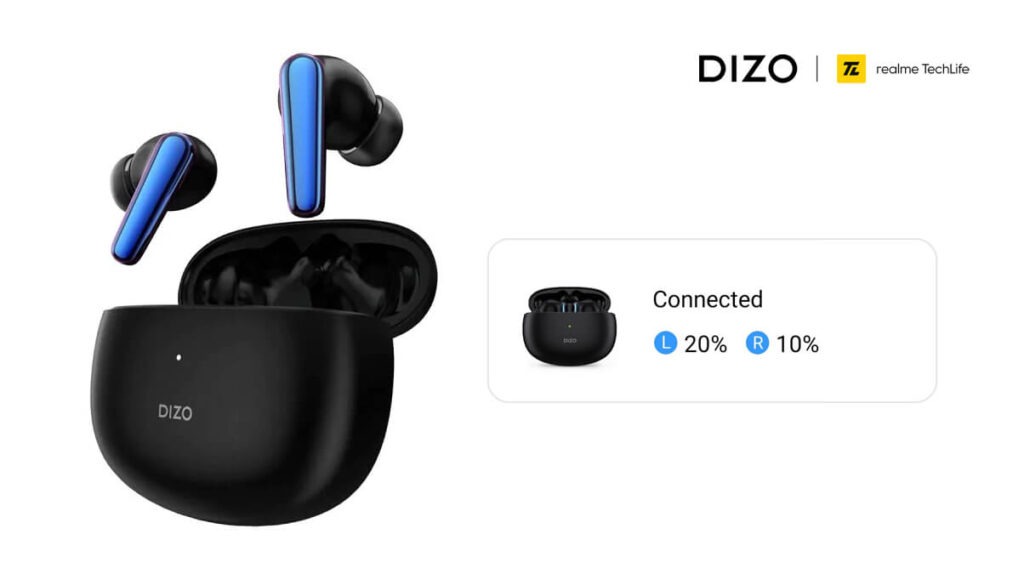 The charging case of the DIZO Buds Z can be charged via the Type-C USB port which is good since most smartphones today also use Type-C cable as well. It also supports fast charging where a 10-minute charge can last the buds for about 1.5 hours which is equivalent to around 80 minutes playback.
The realme Link app also lets you monitor the battery level of the earbuds(you can also see it in the Bluetooth settings of your smartphone).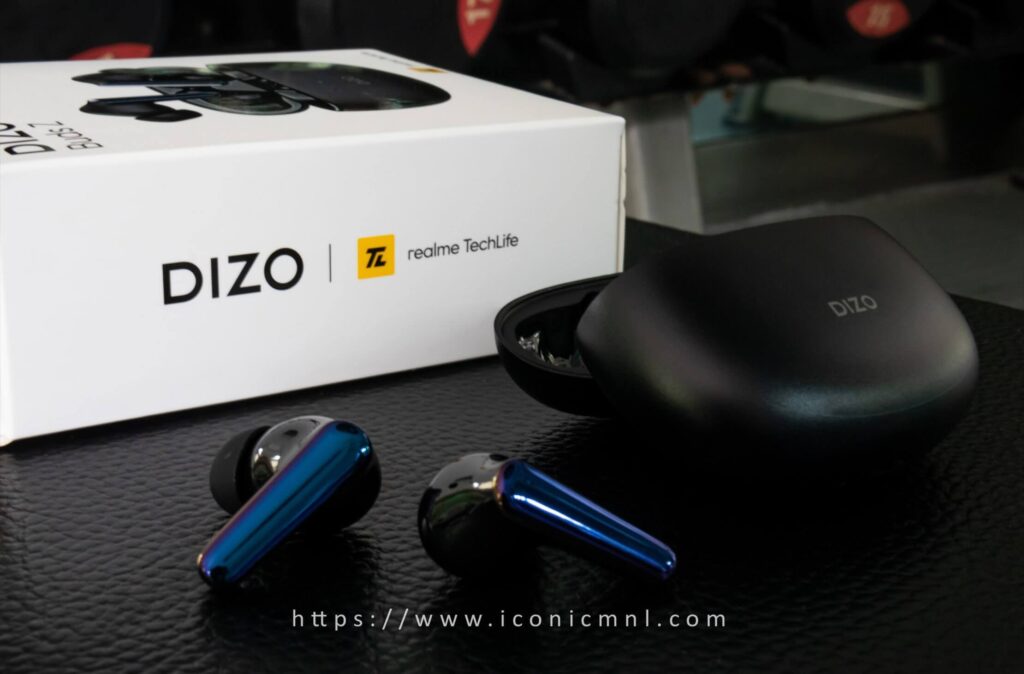 Verdict
I've been using this device for a week now, considering its price range I was really surprised with the sound quality. It also feels so comfortable to use. It is the ideal earbuds for listening to your favorite audiobooks or music. So if you're looking for earbuds with an affordable price without sacrificing sound quality then the DIZO Buds Z might just be your best option especially if you are also a realme smartphone user.
DIZO Buds Z Specs
Driver: 10 mm Dynamic Bass Boost drivers
Connectivity & Ports: Bluetooth 5.0, USB Type-C
Wireless Range: Up to 10 meters
Protection: IPX4 Water Resistance
Battery Runtime: 16 hours music playback, 4.5 hours playback (each bud), 1.5 hours playback in 10 minutes charging
Battery Charging: 1 hour charging time (earbuds), 2 hours (with case)
Weight: 3.7 grams (each bud)
Dimensions: 64.6 mm x 51.6 mm x 26 mm (case), 29.2 mm x 20.4 mm x 24.6 mm (buds)
Features: Environmental Noise Cancellation for Calls, 88ms Super Low Latency, Smart Touch Controls, Bluetooth 5.0 Instant Connection / In-ear Detection, Customizable via realme Link app
Colors available: Onyx and Pearl
Price and availability
The DIZO Buds Z and the other DIZO products are now available at the DIZO Flagship Store in Lazada and the DIZO Official Store on Shopee. Get the DIZO Buds Z for only SRP P1,499!
Leave a comment down below and share your thoughts with us!
Want more features like this? Please follow us on Facebook, Twitter, and Instagram to get the latest trends.