Listening to music can positively affect your mood especially with the current situation where people are experiencing the highest level of stress due to the COVID-19 pandemic. Music can help you be more productive, feel happy, calm or even pumped especially when you are doing your home workout. However, a pair of tangled wired earphones can ruin the experience even before it begins.
The new HUAWEI FreeBuds 4i True Wireless Stereo (TWS) earbuds are here, launched alongside the HUAWEI Band 6 in the Philippines. It builds upon the previously released FreeBuds 3i but with a cheaper price tag and better features.
This new FreeBuds 4i features new 10mm Dynamic drivers with an undisclosed processor. It features Active Noise Cancellation, call noise cancellation, wear detection and up to 10 hours of continuous playback.
Unboxing/Accessories
Straight out of the box, you'll find the FreeBuds 4i that comes in Ceramic White, Carbon Black, and Red charging case with the earbuds inside, USB Type-A to Type-C charging cable, extra Large and small-sized silicone ear tips (each extra ear tips are packed individually base on size giving it a more premium feel), and paper documentation.
Build/Design
The new FreeBuds 4i charging case has a very round shape that looks similar to a cobblestone. It also has a smooth glossy texture which makes it a fingerprint smudge magnet and can be very slippery (good thing the new FreeBuds 4i also comes with a free silicone case) and a flattened back allowing it to sit easily on a flat surface.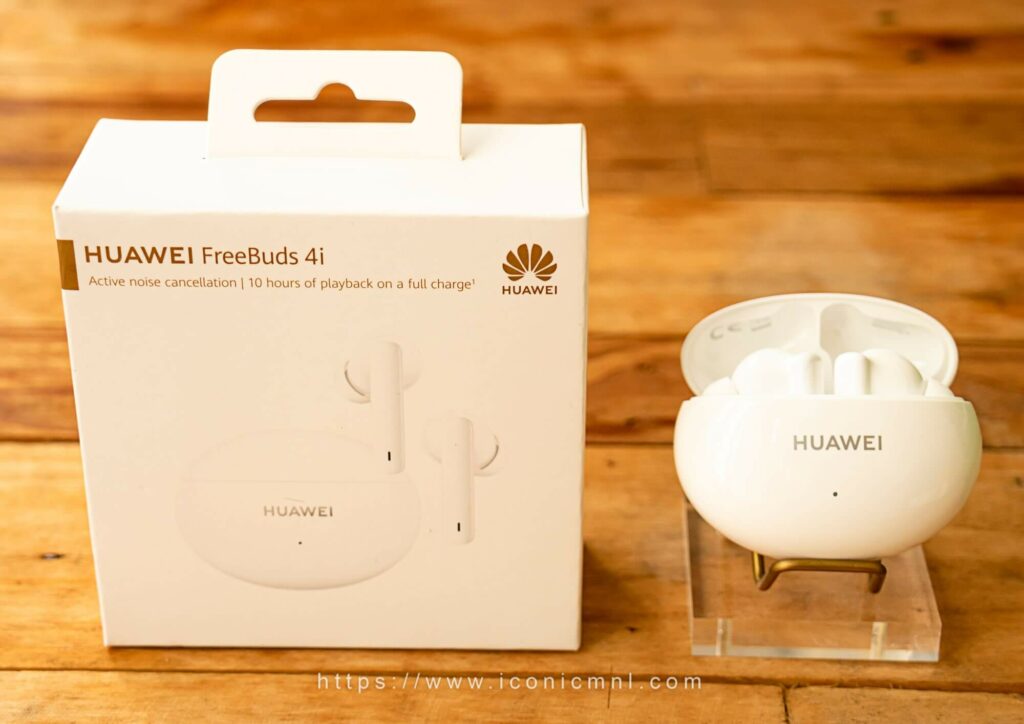 In front is where you will find the HUAWEI branding and the LED light indicator. The multicolored LED light indicator lights up for when the case is on charging mode or low on battery. It also lights up when in pairing mode. There is a physical button located on the right side of the charging case for manually connecting your device via bluetooth.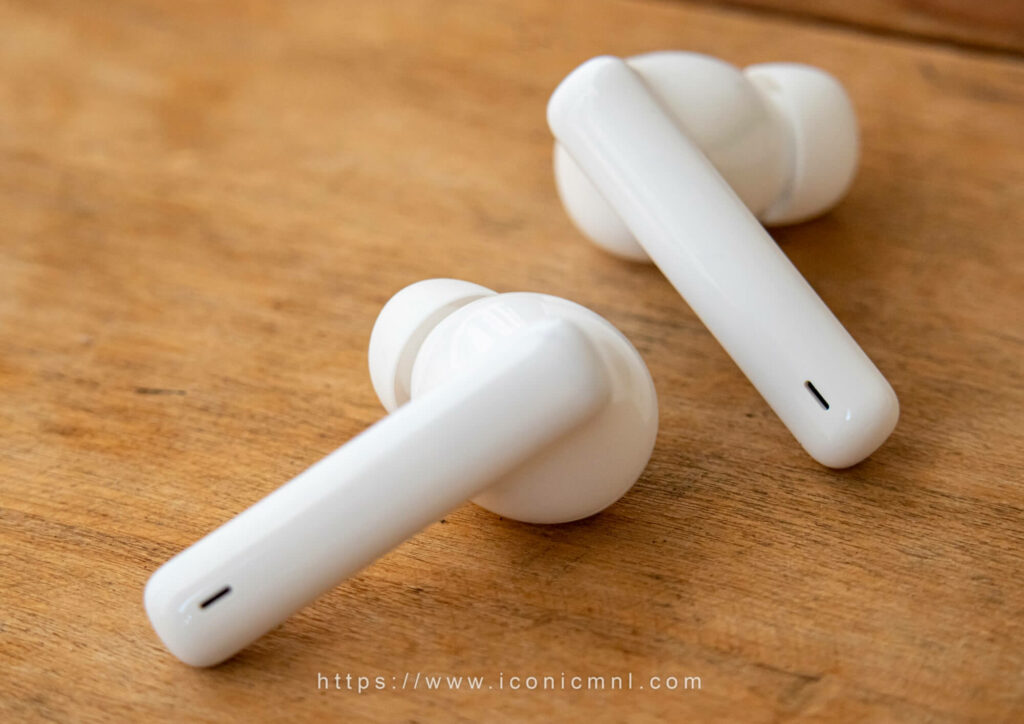 The HUAWEI FreeBuds 4i are ergonomically designed for a stable and snug fit, allowing you to wear them all day in total comfort. The super-light earbuds radically reduce the pressure you feel even after long hours of listening. It also has shorter but thicker stems compared to the FreeBuds 3i. Both earbuds have built-in touch sensors for intuitive touch controls, supported by an advanced algorithm for a more accurate response. Play music, make calls and reduce noise, all with a few simple gestures.
The charging case are made from a lightweight polycarbonate shell with a premium looking glossy finish with a polished fit making the FreeBuds 4i look more premium than any similarly priced TWS earbuds in the market.
Battery
In terms of battery life, each earbuds comes with a 55mAh battery while the case comes with 215mAh battery that HUAWEI claims to make the FreeBuds 4i last for up to 10 hours of continuous playback. Charging the device is also quick at around 1 hour from 0 to 100 percent on the earpiece. Unfortunately, wireless charging is not an option here, but that's to be expected given the price.
Quick Thoughts
As I'm writing this article, the HUAWEI AI Life app has yet to receive the latest update that detects and pairs with the FreeBuds 4i. However, we were able to pair with the FreeBuds 4i automatically by turning on the bluetooth of my HUAWEI P30 Pro and opening the charging case near my phone.
We tried using the new FreeBuds 4i for the first time listening to our favorite podcast via Spotify and listened to our favorite playlist via YouTube Music. We were surprised how the quality of audio it produced considering the price range of the new FreeBuds 4i. Listening to our favorite songs or podcasts in a crowded place had never been so much enjoyable because of the active noise cancellation feature.
In the meantime we still have to try the FreeBuds 4i for an extended period before we can have a full verdict over its overall performance. But so far we are loving the new FreeBuds 4i having all the awesome features that a premium TWS but at a more affordable price tag.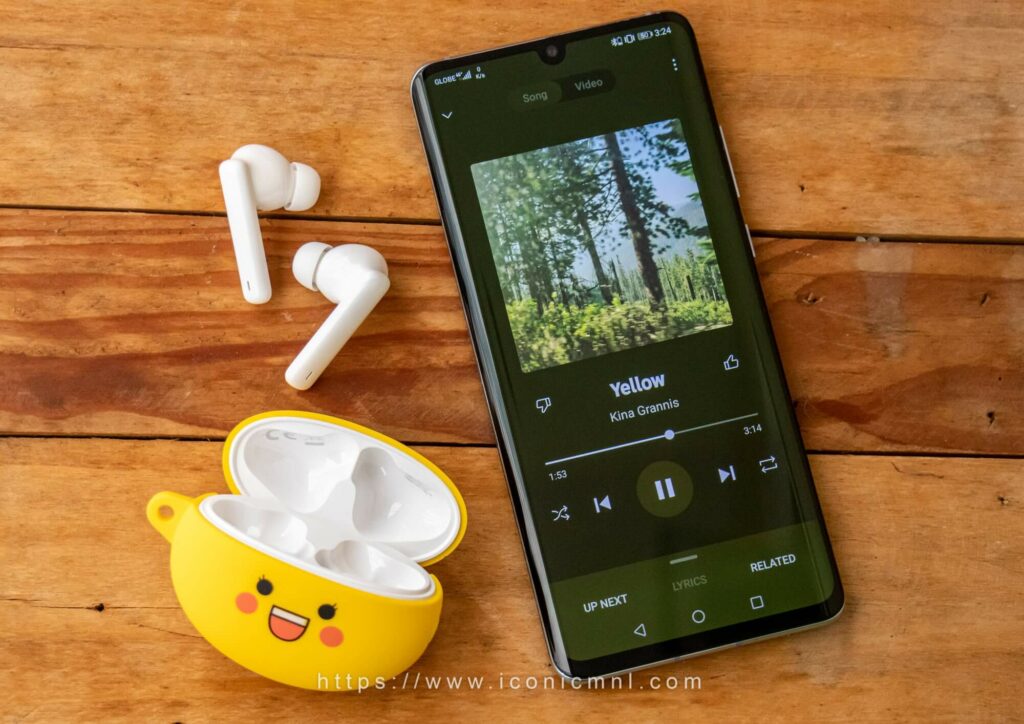 Leave a comment down below and share your thoughts with us!
Want more features like this? Please follow us on Facebook, Twitter, and Instagram to get the latest trends.