The Oppo Reno series is the company's iconic line of mid-range smartphones, and the Reno 8 Z 5G is the most recent model made for the global market. The Reno 8 Z 5G stays true to the series' history of combining iconic design with reliable specs.
The Reno series from Oppo has been around for a while, and with a few notable exceptions, it has stayed in the mid-range market. The phones often put a premium on a stylish design above a spec-war, but last year's Reno 7 Pro we felt had too many compromises for the design and high price to be justified. Does the Reno8 Z 5G make things better? Let's find out in this review.
Unboxing/Accessories
The package arrived with a distinctive design in Mint Green and Black. The printing was changed with a massive number 8 in the upper left corner, and the new branding and the 5G logo can be seen underneath. Despite how small the packaging is, we do appreciate the trendy design that OPPO has done here.
The OPPO Reno 8 Z 5G smartphone, a 33W SuperVOOC charger, a USB Type-C data/charging cable, a TPU transparent cover for protection, printed documentation, and the SIM ejection tool are all included in the box. As expected, the OPPO Reno 8 Z 5G doesn't come with earphones; you must purchase them separately.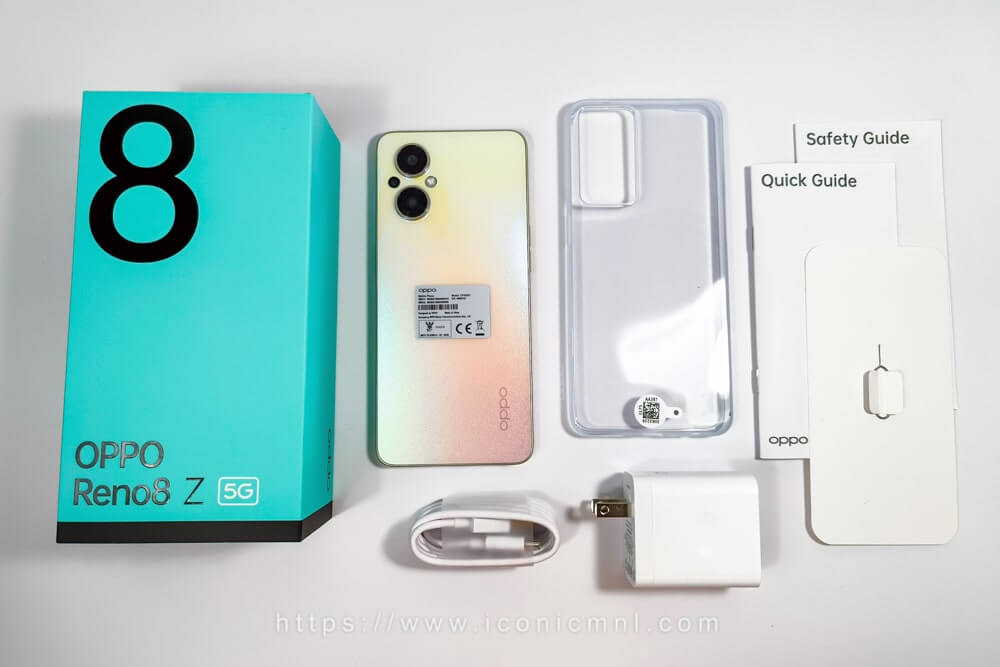 Build Quality/Design
The OPPO Reno 8 5G has a chic look, and we were given the Dawnlight Gold version for this review. OPPO flattened the sides of the Reno 8 5G to conform to modern design trends. This makes it pleasant to carry and use comfortably, even with one-hand operation. While using the phone, the rounded corners give a more ergonomic feel. However, the plastic frame does cut the overall premium feel.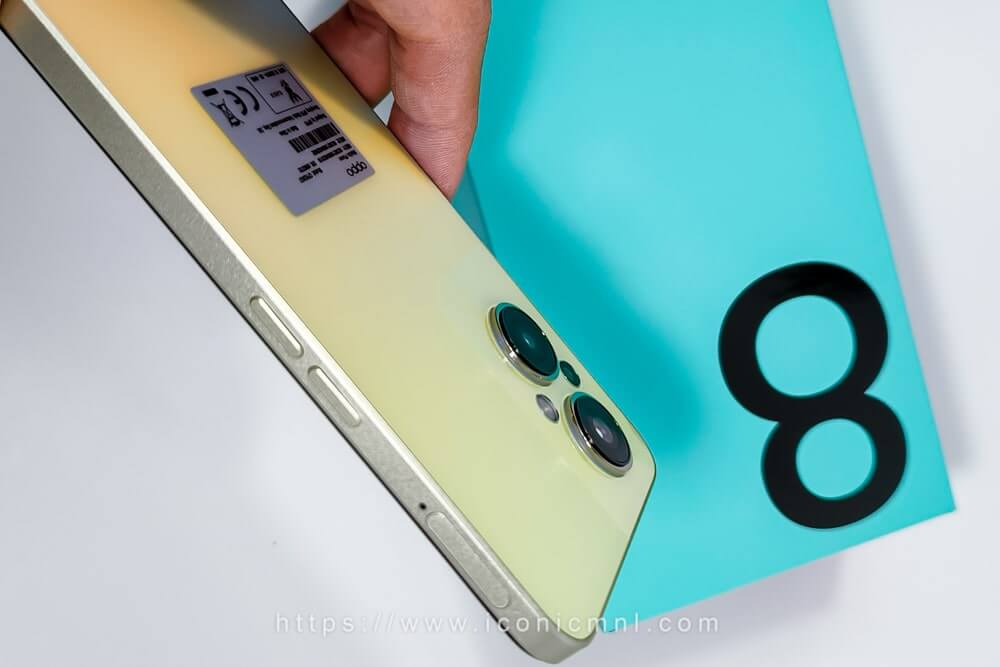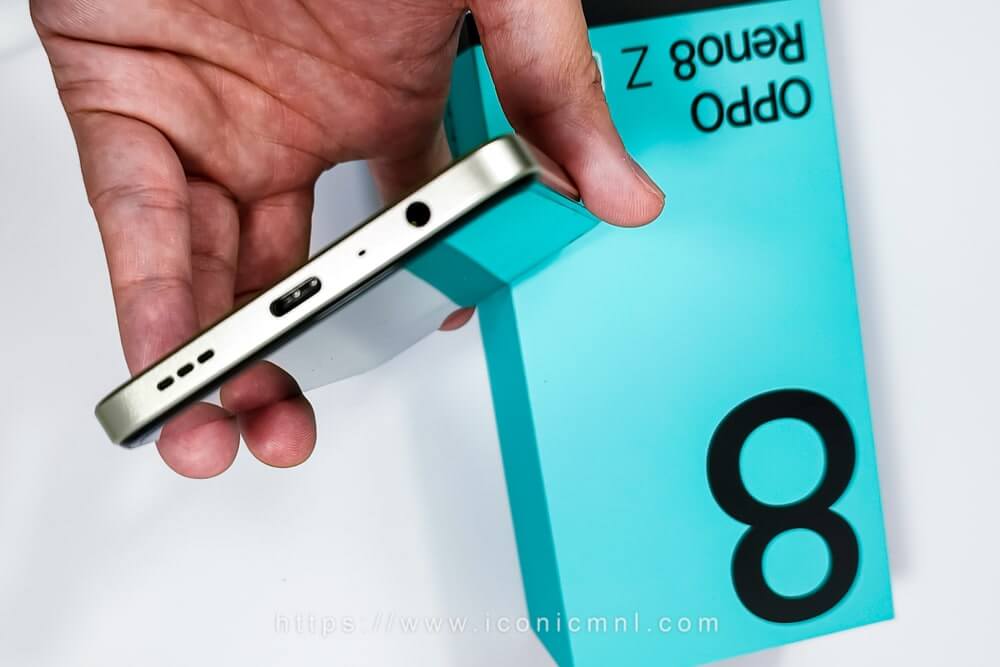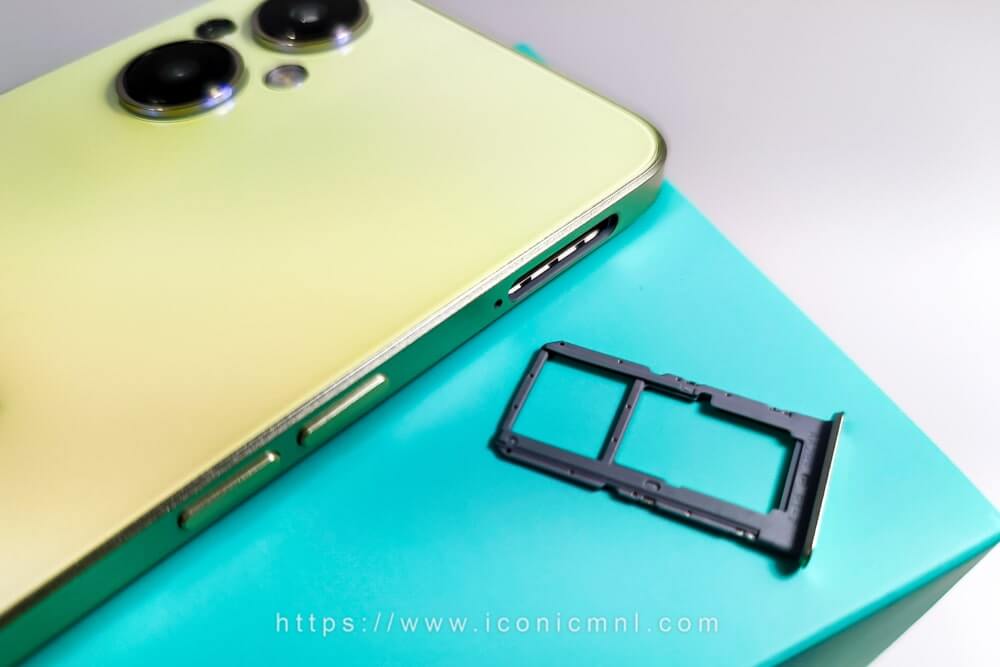 The Reno 8 5G weighs only 181g, making it lightweight and unfatiguing for prolonged use. You get a sizable 6.43-inch screen with a cutout for the selfie camera in the top-left corner. Except for the chin at the bottom, it has relatively narrow bezels that contribute to an immersive experience.
Only the secondary mic is present on the top of the frame. The primary microphone, speaker, and USB Type-C connector are all located at the bottom, along with the SIM tray. The power button is located on the right side, and the volume rockers and SIM card slot are located on the left.
It must be admitted that the Reno 8 Z's design is unquestionably one of its best features right out of the box. When you gaze at the back, it reminds you of the more expensive Oppo Find X5, which has a rear cover and camera bump created out of a single molded piece of glass. The OPPO Breathing Lights are an additional eye-catching feature that functions as a charge indicator or a notification LED.
You have one of the best mid-range phones of 2022 if you combine a flat screen with a lightweight chassis and a flat metal frame. Combine all that and you'll get the Reno 8 Z. Surprisingly, the brand likes Schott Xensation Up better than Gorilla Glass for protection against accidental scratches and drops.
It's a really interesting experience that you usually only find on phones that cost a lot more.

Editor's View
The casing emits a stunning blend of purple, cyan, gold, and pink hues depending on how the light strikes it. You may observe the rear case change into a number of these hues by viewing it from various angles or moving the case from side to side.
For those who can appreciate the look and how well it might go with their outfit, dawnlight gold is a fantastic and perfect color. However, you'll be glad to hear that OPPO also produces the Reno 8 Z 5G in Starlight Black if you're looking for something with a more muted tone. Even though it's much more subdued and therefore more mature, it still has a shimmering look.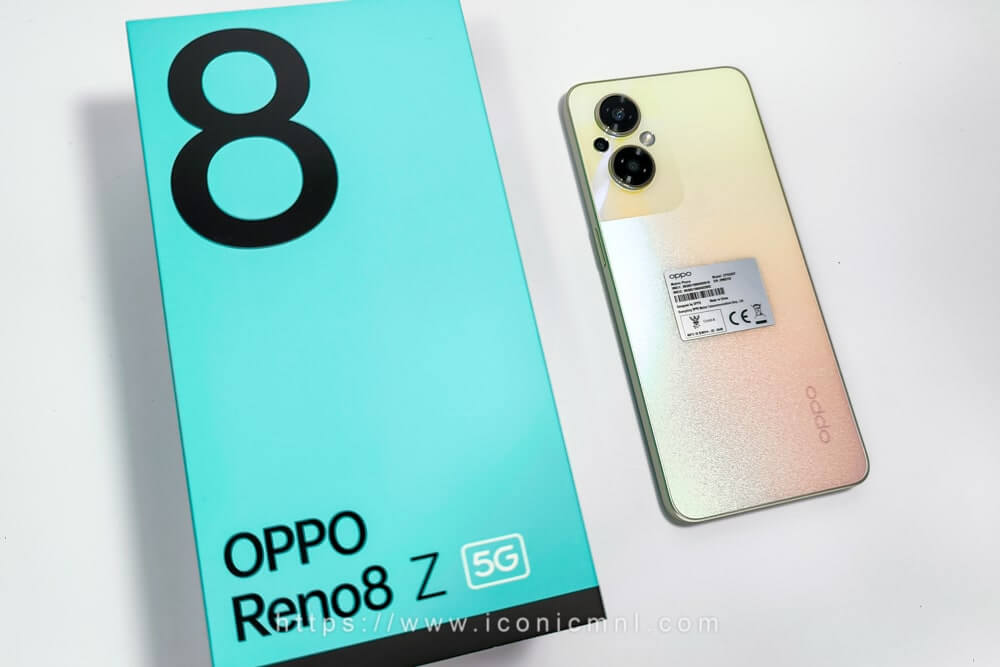 Under the Hood
Onboard is The Qualcomm Snapdragon 895 processor within the OPPO Reno8 Z is well-known for being both power-efficient and reliable. It has 128GB of UFS2.2 storage and 8GB of LPDDR4X RAM for multitasking.
It appears to be "middle-of-the-road" hardware on paper. But because of OPPO's software optimization, the Reno 8 Z 5G functions faultlessly. Changing between apps, watching a YouTube video, or playing a game is all OK. These activities are compatible with the phone.
The extended RAM is another feature that makes this phone work smoothly. It merely enables the phone to utilize unused storage space to improve performance, which is why running numerous apps simultaneously is quite seamless. Up to 5GB can be added to it.
Even during the drawn-out, chaotic battles, playing Mobile Legends and Call of Duty Mobile is not a problem. There is hardly any heat buildup on the phone's back throughout these prolonged gaming sessions.
While the Z has Android 12, the Reno 8 Z5G-8 comes pre-installed with Android 11. Both have the most recent iterations of OPPO's internal UI, ColorOS 12. Although there is some bloatware pre-installed, it is a smooth experience.
Other features include 5G connectivity, Bluetooth 5.1, an in-display fingerprint sensor, facial recognition for unlocking, and NFC. However, there is no WiFi 6, as in the more expensive Reno 8 versions. Aside from being available in Dawnlight Gold or Starlight Black, the Reno 8 Z also comes pre-installed with Android 12 and ColorOS 12.1 on top.
Display
The 6.43-inch AMOLED Full HD+ display of the Reno 5 Z 5G is excellent for general entertainment and gaming purposes. It boasts a maximum brightness of 600 nits, a pixel density of 409 pixels per inch (PPI), a refresh rate of 60 Hz, and a touch sampling rate of 180 Hz.
The phone comes pre-configured with a vivid color profile, but you may change it to the "natural" color profile if you like. I didn't find the vivid color profile to be oversaturated. If the display is too cold or warm for your preferences, you can adjust the color temperature.
The phone provides a decent 90.8% screen-to-body ratio despite the slightly thick chin bezel.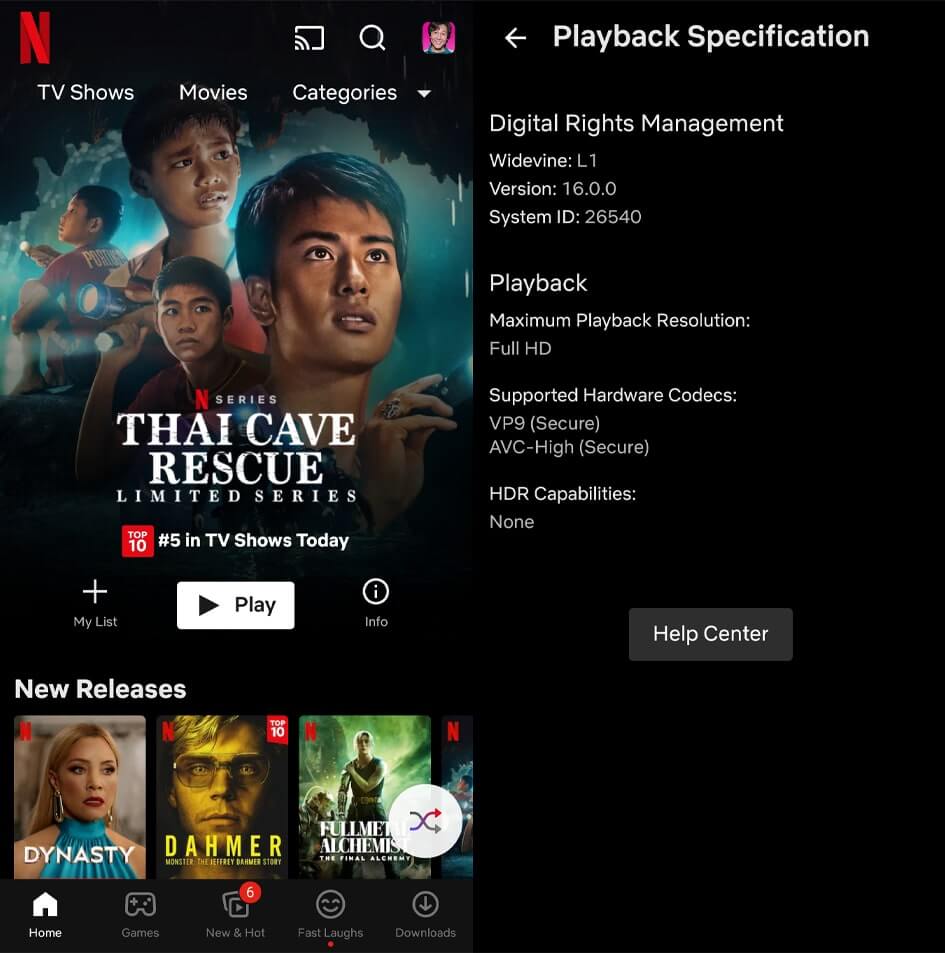 The Reno 8 Z 5G's Widevine L1 certification is a good thing. L1 is the highest level of DRM protection, and for devices that support it, all video processing and decryption occur within the Trusted Execution Environment (TEE). Video playback at the highest resolution is only feasible on Widevine L1-certified hardware. This is ideal for streaming services like Netflix, YouTube, and others for watching videos.
The aesthetics and customizability of Color OS are fantastic. However, the default response of the system may be improved. One is that the app drawer is initially deactivated.
Camera
The camera field is the place where you should most notice the mid-range trappings of the Reno 8 Z. The good news is that the main camera often performs well in most situations. On rare occasions, the dark parts of daytime pictures can be somewhat grainy, but generally, I found that the photographs were sharp, with vibrant colors, and consistent focusing. The main camera worked well even when there wasn't much light. The image was clear and bright, and there wasn't much noise.
It's a common theme among nearly all OPPO phones. The company excels at making low-powered hardware appear powerful thanks to its sophisticated AI. The camera on the Reno 8 Z 5G also reflects this. The 64MP main, 2MP macro and 2MP depth cameras don't seem like much on paper. However, the results are truly amazing when combined with AI enhancement software.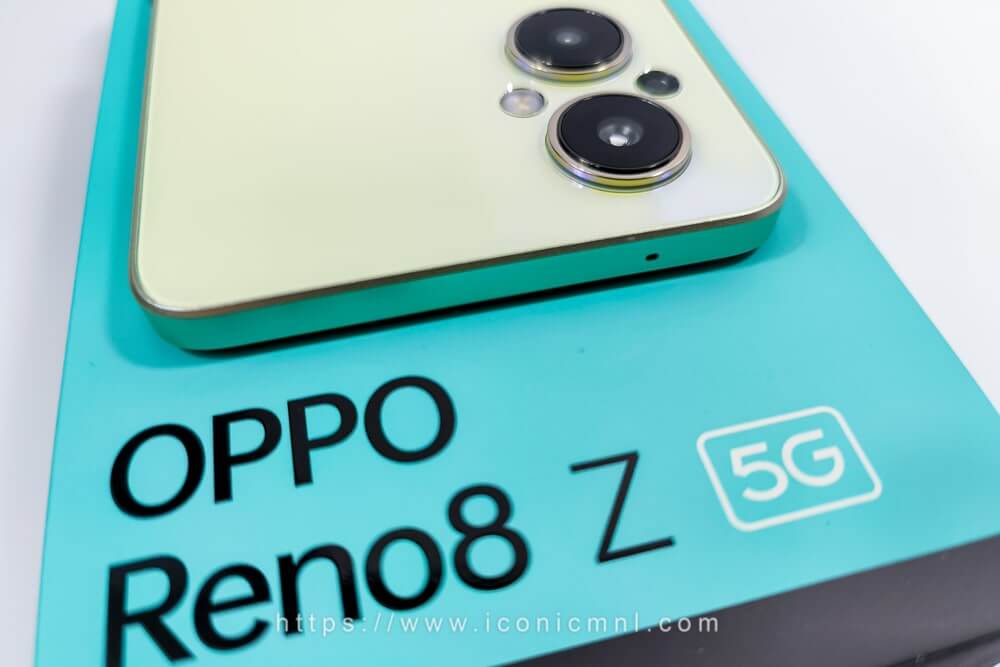 They collaborate seamlessly to create vibrant images with respectable crispness and depth. The technology can capture details clearly without overcorrecting for contrast or exposure. When attempting to capture the bokeh flare effect, this is particularly true. AI technology from OPPO can make the main subject stand out while blurring the rest of the scene.
Ultra-Clear 108MP Image
It also supports The camera produces sub-pixel data with extremely high image resolution, and the pictures you shoot are of such high quality that you could practically make a poster out of them.
16MP Selfie HDR Camera
The Selfie HDR feature uses the front-facing 16MP camera with an aperture of f/2.4 to capture sharp selfies even in poorly lit or backlit environments. With the use of this technology, backlit selfies can have a wider dynamic range while still maintaining the details of backdrops and faces. When a bright background or a face with backlighting is seen, the front camera automatically identifies the background light and applies an algorithm to dim the brightness. The portrait matting method can correctly identify the portrait subject following algorithm training based on substantial amounts of portrait data.
Bokeh Flare Portrait
According to OPPO, the algorithm has successfully improved portrait recognition and, to some extent, cutout skills by being trained in more than 100 situations. The outcomes are the same for selfies. With the aid of some "magic touch-ups" in post-processing, the 16MP front camera, which relies on AI technology, can take respectable pictures of subjects.
AI Portrait Retouching
Skin tone and makeup can be improved using AI portrait retouching without looking overly manufactured. But results vary. The phone has occasionally done a good job of enhancing my selfies, but other times it overcompensates and messes everything up. My piece of advice is to take selfies in well-lit settings, especially during the day.
Dual-View Video
Although uncommon, it is nonetheless an intriguing feature, particularly for content producers. You can simultaneously capture videos with the front and back cameras using dual-view video. This one appeals to me personally since it makes it simple to present both sides of the narrative.
The Reno8 Z 5G has a feature that makes it easy to switch between the front and back cameras. It also has several split-screen settings and movable floating windows, which give the user more creative options for making videos that are easy to use and immersive.
We were impressed with the shots taken by the OPPO Reno8 Z 5G image quality on this phone is a lot more vibrant than on other phones. Check out our samples here: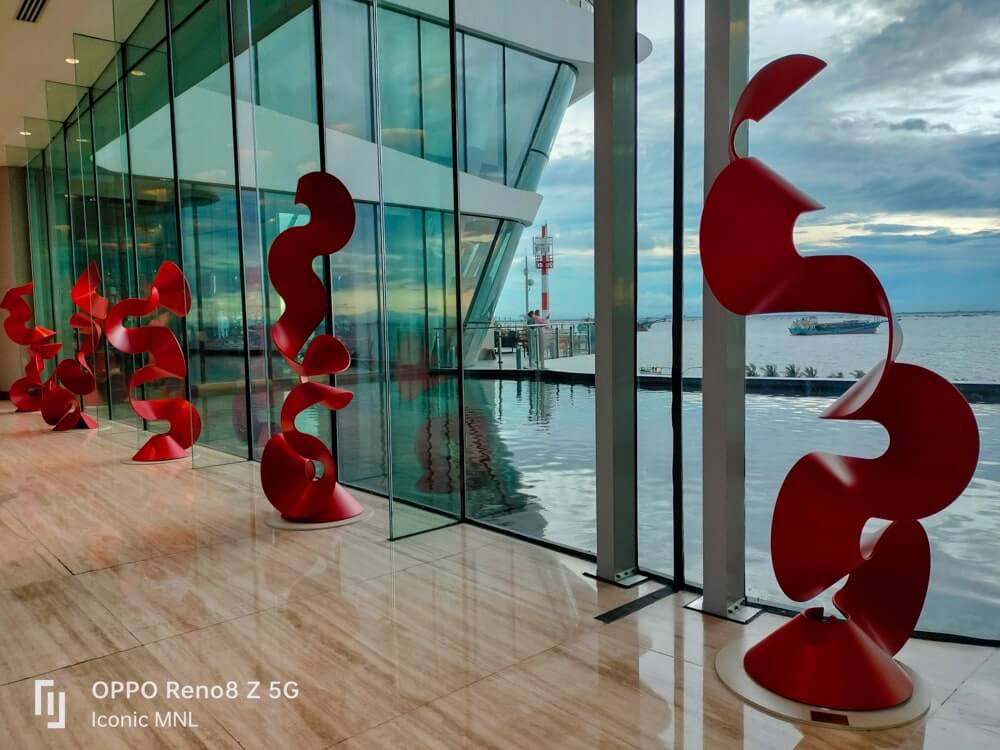 Performance
The Color OS has evolved into one of the top third-party Android skins available today. The skin contains a huge number of helpful features and lots of customization options. Additionally, you may choose to automatically hide the content of alerts when your phone can't see your face or hide banner notification details while someone else is looking at it (e.g. in the dark). We didn't see any annoying ads on the phone either.
Here's the result of our synthetic tests of the OPPO Reno8 Z 5G performance: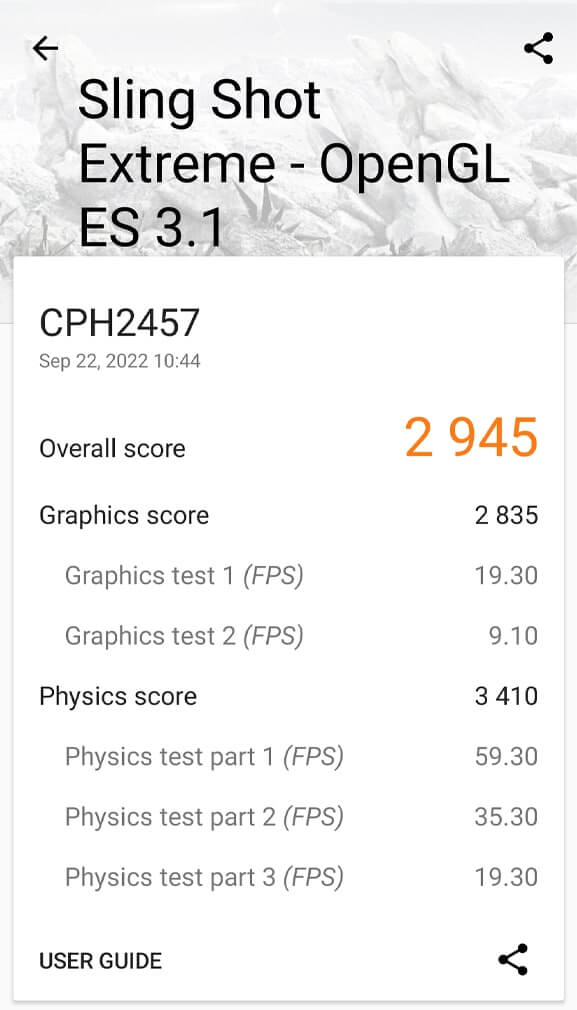 Gaming with Reno 8 Z 5G
By opening a window in the top left corner of the game, you can access the Game Toolkit's different shortcuts. To make more room for other programs, you can rearrange shortcuts like Voice Changer and Orientation Lock using it.
The floating window can only run one application at a time, though. The time, phone temperature, and battery level are among the other pieces of information shown in the Game Toolkit. The updated system status is also viewable on the screen and may be moved about. By integrating the game toolbar while you are playing, this function makes sure that all games run well.
The Games mode is another function that lets you disable all notifications while playing games. Quickly opening mobile games is possible. Other pre-installed applications include Netflix, WhatsApp, Lazada, and more. Most of the superfluous apps may be removed, but bloatware is not really beneficial.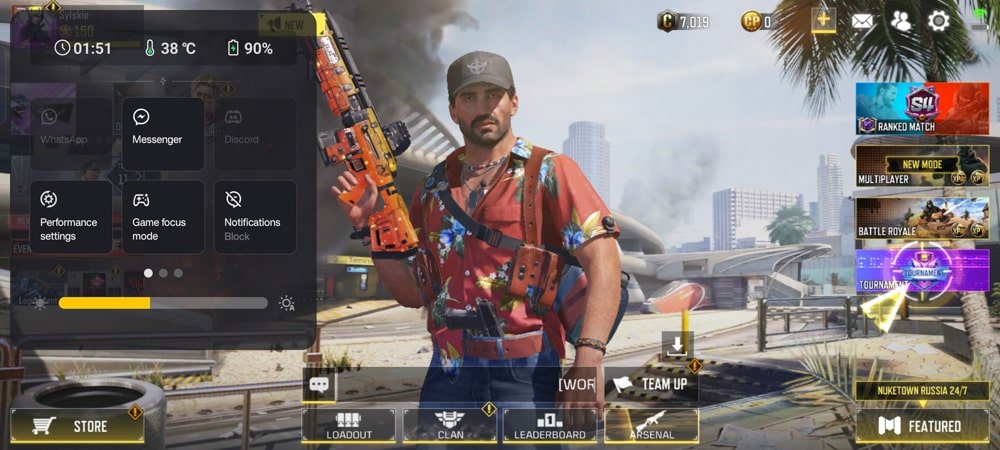 We tried Call of Duty Mobile for gaming. Even though the Reno8 Z 5G isn't the best for this game, its graphics performance is still better than average when compared to other mid-range phones.
However, when it came to gaming, we were pleased with the OPPO Reno8 Z 5G. The display responded quickly. and the motion was fluid. Even though we couldn't set the graphics to their best frame rate, the game felt smooth most of the time.
Other Features
Other functions include Breathing Light, which regulates the lighting surrounding the two cameras on the rear. You may program it to turn on while it's charging or getting a call. Additionally, a flexible window exists that enables you to run two programs or tabs at once.
Battery
The performance, battery life, and fast charging are significantly more useful and applicable during daily usage than the camera or design, which, while wonderful, are rarely distinctive in the world of midrange phones today. With Oppo's 33-watt SuperVOOC rapid charging technology, the phone can be fully charged in a little less than an hour from almost empty. This is an astounding performance, especially because you can restore 15–25% of the battery charge by plugging it in for around 5–10 minutes.
Here's the result from the PCMark Work 3.0 battery life: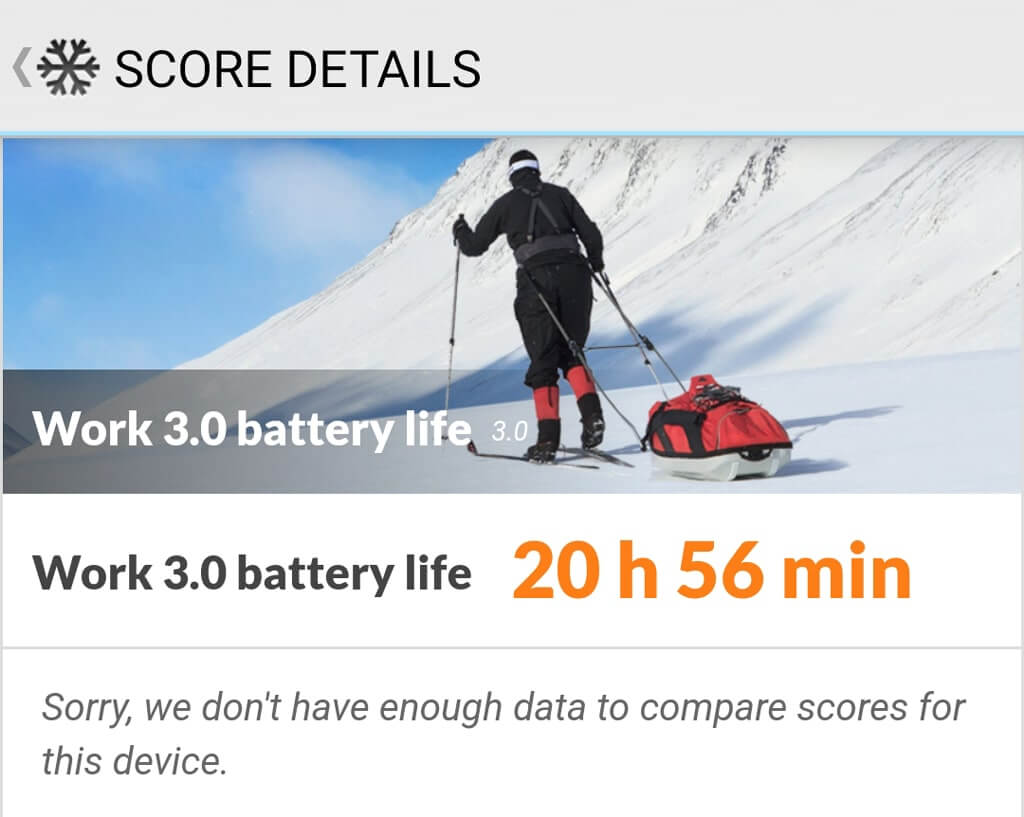 One of the Reno 8 Z's strongest points is its battery life, which lasts for more than a day under normal use. Therefore, you no longer need to freak out if you ever forget your charger at home. Oppo claims that the Reno Z's battery only loses just over 80% of its capacity after 1,600 charging cycles or nearly four years.
Final Thoughts
The Reno 8 Z 5G is the phone for you if you're searching for a stylish device with a respectable performance at a reasonable cost. It rarely exhibits latency or app crashes, takes passable photographs in ideal lighting situations, and offers lots of customization and convenience choices with ColorOS 12.1.
Additionally, the battery life is very good, which makes it easy to recommend for those who are frequently on the go. Purchase the Reno 8 Z 5G, preferably in Dawnlight Gold, for a more stylish look.
But if you want a more versatile camera phone that excels even in poor lighting or precisely zooms in on distant subjects, you can go with the Reno 8 Pro.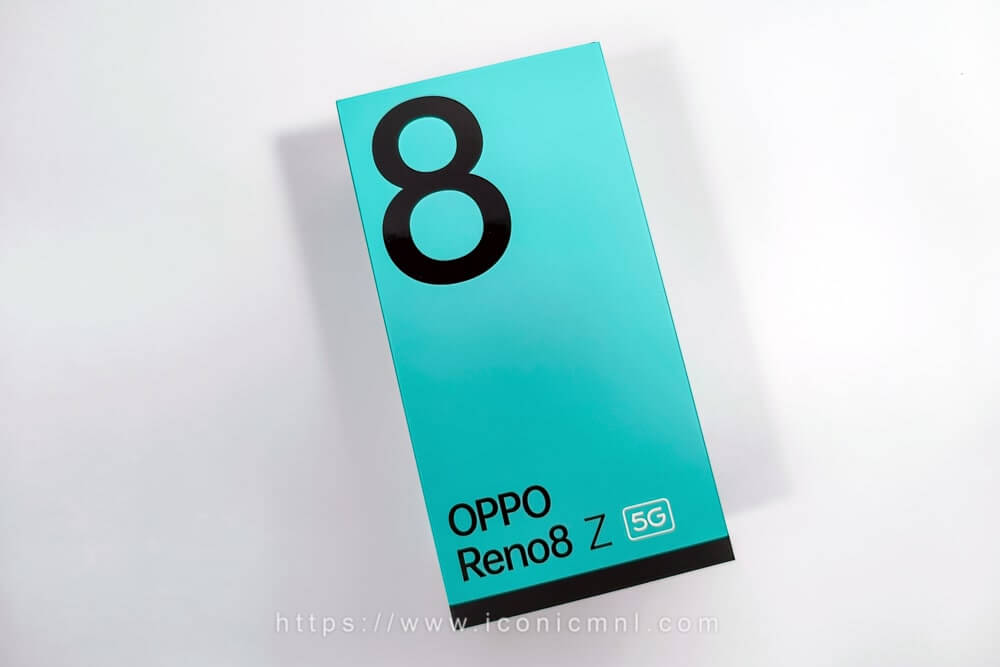 OPPO Reno8 Z 5G Specs
Display: 6.43-inch AMOLED screen w/ 60Hz refresh rate, FHD+ 2400 x 1080 resolution at 409 ppi
Dimensions: 159.9 x 73.2 x 7.66 mm, 181 g
Protection: In-Display fingerprint sensor, SCHOTT Xensation Up
Chipset: 2.2GHz 6nm Snapdragon 695 octa-core processor
GPU: Adreno 619L
RAM: 8GB LPDDR4X
ROM: 128GB UFS 3.1 expandable via microSD card slot up to 1TB
Rear Camera: 64MP f/1.7 + 2MP f/2.4 macro + 2MP f/2.4 depth + LED flash
Front Camera: 16MP f/2.4
Battery: 4,500mAh w/ 33W SUPERVOOC
OS: Android 12 w/ ColorOS 12.1
Connectivity: WiFi 802.11ac, 5G, 4G, Bluetooth 5.1, USB-C, OTG, GPS, NFC, dual SIM (nano)
Sensors: Accelerometer, light, orientation, proximity, gyroscope, sound, magnetic
Colors: Dawnlight Gold, Starlight Black
Price: PHP 19,999
OPPO Reno8 Z 5G Price and availability
The OPPO Reno8 Z 5G is at PHP 19,999. It also comes in two colorways: Dawnlight Gold and Starlight Black.
Leave a comment down below and share your thoughts with us!
Want more features like this? Please follow us on Facebook, Twitter, and Instagram to get the latest trends.